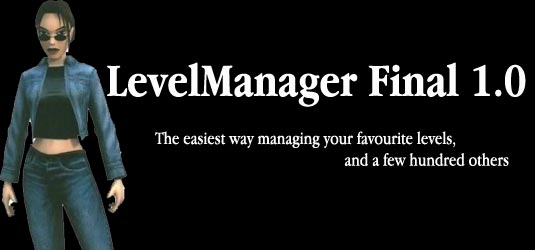 One click - BOOM, ya know!
The new LevelManager gives you many new possibilites to manage even hundreds of levels.
If you know iTunes, you know how easy it can be, managing hundreds of files. LevelManager now also has an infobrowser, which is very familiar to the one iTunes has.
Imagine, you wanna see which levels you haven't played yet. One click, and you know.
Imagine, you wanna see all the levels of a special levelcreator, one click, you know
Or imagine, you just feel to play an Egypt level, but don't know which are Egypt ones. One click, yeah, you know.
Try it out, and you'll wish to never miss it anymore.

Compressed Levels - LevelManager likes 'em!
LevelManager now can also store compressed levels, decompress them when it's required (if you wanna play them) automatically for you. You can also compress levels again to free some space on your disk.



Extended file support
More and more levels are going to include .mp3 compressed audio files and sound files. But you don't need to convert them to .wav. Why? LevelManager is doing everything that is need to make them playable. Nothing to do for you, everything is done automatically.
LevelManager is now also supporting the following files: "pcsky.raw", "font.pc", "load.raw", "strings.h" and "objects.h" for better compatibility.


LevelManager does do it all for you...
You don't have to care about installing, moving files, or creating backup of levels. LevelManager installs a level into the total right directories, saves other files away so they can't be overwritten.
You think, that's cool? We too! That's the reason why we buildt in some more stunning features. For example the auto-screenshot- or savegame import before you switch to another level.
And ey, what about a function to store walkthroughs? And edit them. Wouldn't you like this?
Full control which language, which files are used...
Often levels come without an own "uklogo.pak" or "load.bmp" and so on. LevelManager cares also about them and uses the ones you like to be used instead.
Also, some levels are playable in different languages. That's cool, and it's even cooler that LM always automatically installs the language version you prefere.


Tomb Raider LevelManager is a tool made on and created for Macs. So, you need a Macintosh Computer to use it. If you still don't have one standing on your desktop, buy one. It's really worth it, not only for seeing the power of LevelManager.